Graduate Student Brittany Smith Exemplifies the Work Being Done in Duke's Materials Research Society
11/8
Pratt School of Engineering
The PhD candidate merges a passion for nature with sustainable sensor technology in electrical engineering while championing interdisciplinary mentorship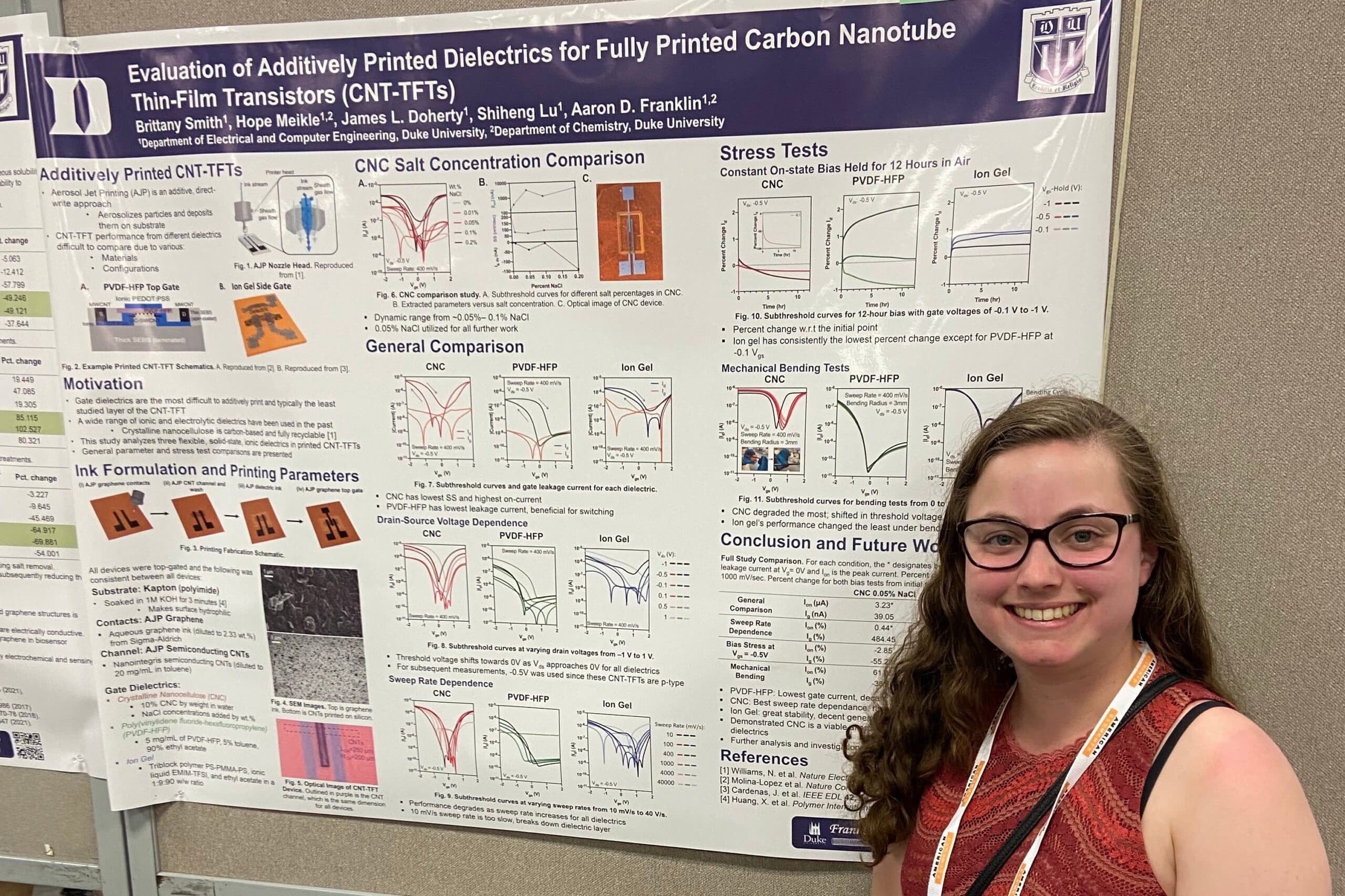 Duke's diverse academic environment helps students carve out their own unique educational paths in unexpected ways. One graduate student in particular has meticulously woven her passion for nature with the complexities of electrical and computer engineering (ECE), resulting in a compelling interdisciplinary narrative.
Originally from Connecticut, Brittany Smith began her academic journey with an affinity for ocean life.
"My initial aspiration was to delve into marine biology when I applied for college. Although it's not my current field of study, I've always had a profound respect for nature," Smith, a PhD candidate in ECE, shared.
Smith is also a member of Duke's Materials Research Society—MRS@Duke —which is an independent, student-run organization affiliated with the globally recognized Materials Research Society. Its mission is to create a dynamic platform where those in the materials discipline can collaborate and champion their science worldwide.
"The combination of Duke's innovative research approach and comprehensive resources solidified my decision to study here."

Brittany Smith
PhD candidate studying materials science and engineering with Aaron Franklin
The primary goal of these graduate student organizations in materials is to enhance communication and association among students and faculty in the materials science space, all while promoting collaboration in the field both on and off campus. The society organizes a range of activities from professional development events like symposiums, poster competitions, and mentoring programs to informal gatherings like trivia nights and art festivals.
Ultimately, they provide crucial support such as MRS conference travel funds and project grants for thoughtful student ideas, all while serving as a bridge to connect with faculty in the Duke Materials Initiative (DMI). This open invitation to all students interested in materials was one of the many influential steps in Smith's journey to Duke.
A pivot toward engineering materialized when she recognized her aptitude for physics and mathematics early on. The wide-ranging opportunities within electrical engineering, especially those related to sensor development, proved irresistible.
"I was intrigued by the countless possibilities within electrical engineering. The idea of working on sensors, given their vast application potential, was particularly appealing," Smith added.
Duke became her chosen academic destination, significantly influenced by the research of Aaron Franklin, Addy Professor of Electrical and Computer Engineering. Smith was drawn to Franklin's innovative endeavors in sustainable electronics and sensor technology.
"The combination of his research approach and Duke's comprehensive resources solidified my decision to study here," Smith shared.
At the heart of her research is the intersection of sustainability and advanced sensor technology. She has extensively employed sustainable materials, with graphene being a primary focus.
Discussing her approach, she explained, "We've developed a technique using a unique printer that parallels those used for paper. But instead of traditional inks, we use electrically conductive ones, allowing for the printing of materials like silver, gold, and notably, graphene."
Beyond her primary research, Smith emphasized her engagement with printed electronics. "We're harnessing the potential of printed electronics, aiming to develop more eco-friendly approaches. Our lab is looking into materials like cellulose, a fully biodegradable substance derived from plants, which represents our commitment to sustainability," she noted.
Mentorship has been another cornerstone during Smith's time at Duke. Over the span of three years, she's provided guidance to nine students from various backgrounds, helping them navigate their academic and professional careers.
"I've always believed in a hands-on approach to mentorship. Every student I've mentored, whether from backgrounds in chemistry, computer science, or mechanical engineering, has actively participated in research projects, making for a holistic learning experience," she reflected.
With an eye on the future, Smith has aspirations of joining academia as a faculty member–her vision is clear. "My goal is to create sensors tailored for diverse environments, from the ocean to the Arctic. These endeavors stem from both my initial interest in marine biology and my current engineering expertise," Smith shared.
She further highlighted the potential of non-invasive sensing techniques for wildlife, underscoring her commitment to minimizing human impact on nature.
Smith also pointed to the importance of interdisciplinary learning at Duke, emphasizing the unexpected yet enriching incorporation of chemistry and materials science into her engineering coursework.
Smith's dedication to sustainable sensor technologies, commitment to mentorship, and clear vision for the future of electronics research places her among graduate students leading a new wave at Duke.
Materials Science & Engineering at Duke
Our multidisciplinary research community is a global leader in the discovery and development of new materials.