Campus Tours
We'd Visit You, If We Could
If Duke Engineering were a truck, you'd want to take it for a test drive. You'd want to see it for yourself, so you could kick the tires and make sure you felt right driving it. You're invited to visit us and do just that (but no kicking, please).
You're Invited
For undergraduates, we hold tours throughout the year—both in-person and online. Each option features lots of time for interactive chat and questions. And feel free to bring your mechanic/family/friends for a second opinion.
Prospective Undergraduate Students
Interested in touring Duke Engineering?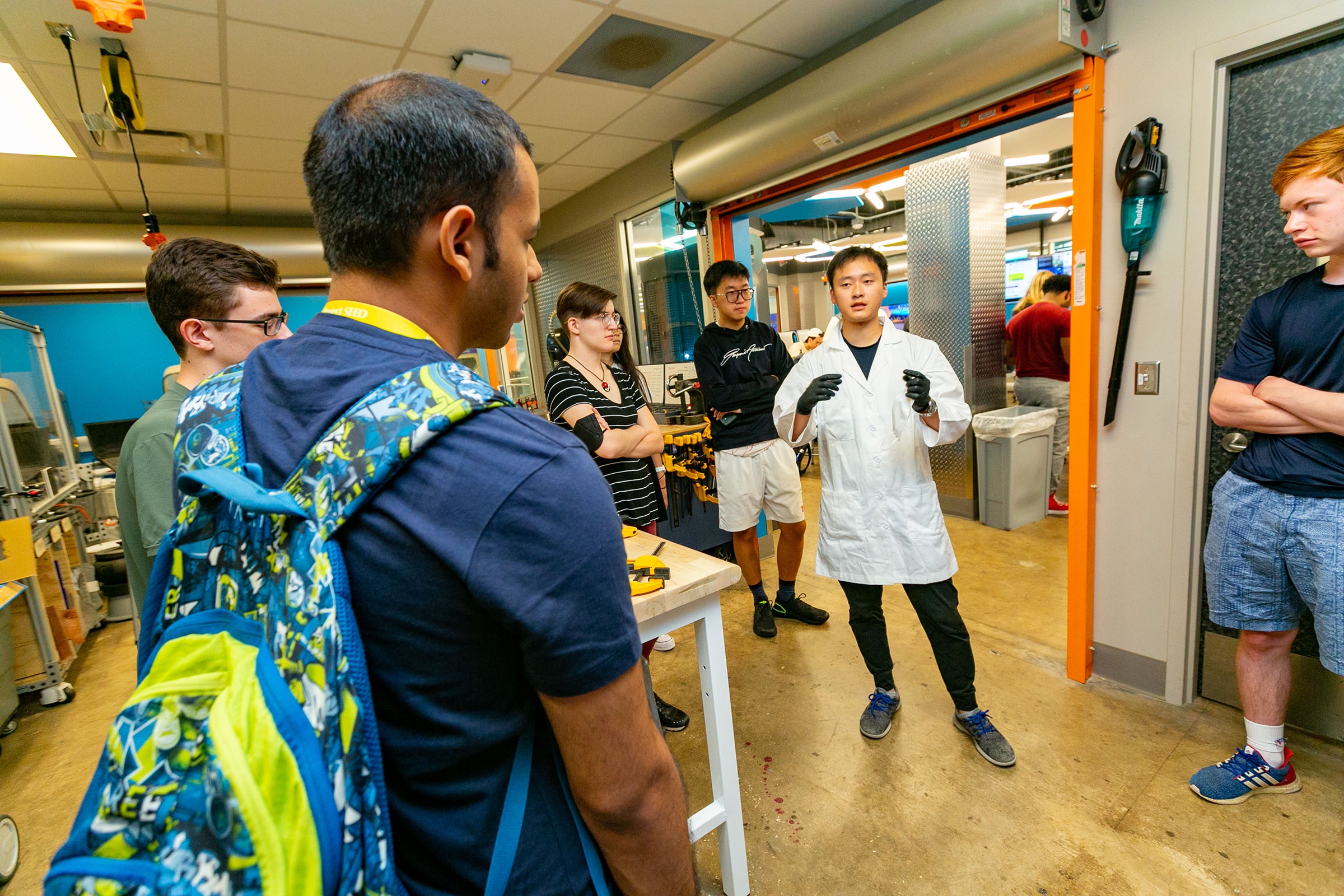 Engineering Tours
These one-hour walking tours visit our landscaped quad, tool-filled maker spaces and more. They're scheduled to sync with Duke Undergraduate Admissions campus tours, so you won't miss a thing. See the schedule and register for a tour.
Virtual Events
Not being here in person doesn't mean you can't experience what makes Duke an amazing place. Join us for one of our live, interactive virtual programs. Register for a virtual event.
Online Tour
Take a self-guided virtual tour anytime on Duke's virtual tour website.
Prospective Graduate Students
Master's Students
Our Master's Admissions team holds interactive virtual events that dive deep into discussions of degree program features and campus amenities.


PhD Students
Each spring, our academic departments send invitations to selected PhD applicants, who then visit our campus and meet with faculty, staff and students.
Directions to Campus and Duke Engineering
Duke University is located in Durham, North Carolina. The campus is a 20-minute drive from Raleigh-Durham International (RDU) airport. An Amtrak passenger train station and Greyhound bus stop are located near downtown Durham, a 9-minute drive from the center of campus.
The Pratt School of Engineering is located at 110 Science Drive in Durham. Our main administrative offices are on the third floor of the Nello L. Teer Building.
Major-chain and independent lodgings are available throughout our Research Triangle region.
Discover Authentic Durham
Delve into a city where local essence shines. Relish in bolder flavors, encounter inspiring art, discover unique shops, sip on inventive drinks, and immerse yourself in captivating entertainment.
Meet the passionate people behind it all and see why Durham's dedication to local businesses makes it a must-visit destination.
To get a feel for the city, view the gallery below with photos from Discover Durham.