When It Comes to Outreach, It's in the Community
Jamal Michel
Two emerging programs at Duke provide valuable lessons on how to build experiences for a diverse set of local students to help expand the STEM pipeline.
BEFORE MAKING HIS WAY TO DURHAM, North Carolina, from New York City, Aaron Kyle firmly believed that engineering design was a great way to get young people engaged in STEM learning. Since shifting from an urban metropolis to a smaller, rural area, that conviction has only been elevated.
The professor of the practice in biomedical engineering at Duke also knew that it was equally important for underserved and underrepresented groups interested in the field to be exposed to STEM and have ample opportunity to apply their knowledge there.
Community outreach and engagement are at the core of what Kyle aims to accomplish as both an academic and an educator. They play pivotal roles in fostering connections, promoting education and driving positive change within STEM so that anyone can get involved and contribute their own unique perspective. One inspiring example of effective community outreach that holds lessons for anyone working in this space can be found through Kyle's Outreach Design Education (ODE) program here at Duke University.
"This is the first time [ODE] has been at Duke—I just moved here last summer, and I was doing a version of this at my previous institution in New York. [This summer] it had a real spirit of excitement that went along with it, but I think the successes were more attributable to the fact that I had an excellent set of students," said Kyle.
Designed to empower marginalized and economically disadvantaged students, ODE has demonstrated its commitment to enhancing access to STEM resources, fostering inclusivity and building strong partnerships with local communities through thoughtful engagement.
The program recognizes the potential of design education to engage young minds, regardless of their background, and empower them to become drivers of innovation.
"If they can define a problem and develop a solution to that problem, then it really gives them a chance to do something impactful and puts them in the driver's seat, which I hope will be a motivator for younger kids [in STEM]," said Kyle.
"We work with middle schools, visiting local ones and providing these short instructional lessons primarily in the fall. Then in the spring, the focus shifts to bringing kids to campus for a one-to-two-day "hackathon" where we go through the design process and build up some low fidelity prototypes as a crash course," he explained about the structure.
Getting Hands-On With STEM
This past spring, Kyle conducted the inaugural ODE Hacakthon with Lowe's Grove Middle School. Much of the Hackathon's success comes from sustained engagement with schools to strengthen relationships with the university and surrounding community even after the program ends. An ongoing relationship with a specific school can help maintain interest from students who might have missed out on a session, highlighting an important element of ODE's outreach.
The five-week Summer Design Camp for high school students is free for all participants and borrows some inspiration from Kyle's undergraduate capstone design course, which introduces students to the principles of engineering design and offers hands-on activities that build technical competencies.
From engineering design workshops to labs and fabrication sessions that involve the use of 3D printers, microcontroller programming and laser cutters, Kyle wants students immersed in all facets of design that encourage innovation. "In parallel with them learning engineering design, we charge them with applying the design process to find a problem on their own and develop a solution to it. So, they get a chance to be kind of mini-designers over a five-week span," said Kyle.
Transitioning from a large city like New York to the Durham region posed both unique challenges and stimulating opportunities for the ODE program. While the scale and demographics differed, the underlying principles remained constant—fostering inclusivity, promoting STEM education and empowering youth.
One notable aspect of Kyle's approach is his deliberate integration of Diversity, Equity, and Inclusion (DEI) considerations into the design process. He recognizes that addressing DEI issues enhances the quality of design solutions while nurturing a sense of belonging and purpose among students.
By infusing these inclusive principles, ODE can address challenges that resonate with communities, cultivating a sense of agency and social responsibility.
"Incorporating underrepresented groups, -economically disadvantaged kids and first-generation kids are foundational aspects of what I do with these programs. However, I don't have any exclusion criteria—anyone can apply and join us. I want to be a part of working with Durham Public Schools because I want to provide these opportunities for kids who might not normally learn at a place like Duke," said Kyle.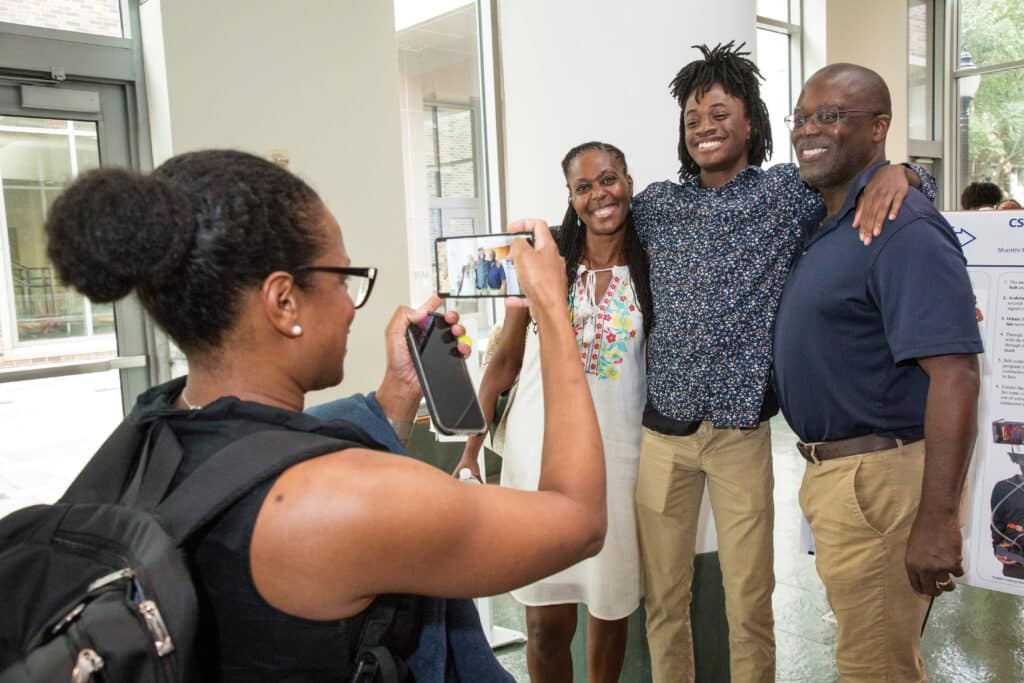 Empowering the Next Generation of Scientists
Another excellent example of these types of programs features graduate students working with rising juniors and seniors in high school that gives them the opportunity to conduct practical engineering research.
Kiarra Richardson, biomedical engineering PhD student and NSF Graduate Research Fellow, serves as the current president of DukeREP, a seven-week paid internship that puts local high school students in labs and workshops in collaboration with biomedical engineering departments.
"We wrap a lot of things into this program. It's college prep. We do workshops with them where we cover writing, we conduct mock interviews, we hold different workshops to help them pick their colleges. But the bulk of DukeREP is them doing a research project with a graduate student and basically doing their best to learn concepts through experiments. They really try and get a feel for how it is to be in an academic space, and DukeREP is completely PhD student-run," said Richardson.
And those PhD students are equal parts researcher and mentor.
Like Kyle, Richardson's focus in DukeREP is bringing valuable hands-on research experience to underrepresented communities of students to prepare them for their future as engineers and researchers. Seeking out participants for the internship involves its own communication efforts, with Richardson and other DukeREP instructors engaging in conversations both online and in-person at schools and events to get the word out.
As DukeREP's current president reflects on her first year in leadership, she offered insightful advice for those embarking on similar outreach endeavors. Leveraging the knowledge and expertise of those who have previously run comparable programs is crucial.
It's college prep. We do workshops with them where we cover writing, we conduct mock interviews, we hold different workshops to help them pick their colleges. But the bulk of DukeREP is them doing a research project with a graduate student and basically doing their best to learn concepts through experiments."

Kiarra Richardson
BME PhD student, DukeREP President
Opening the floor to collaborative planning meetings, coupled with a deep understanding of team members' strengths, could create smoother operations and proactively problem-solve any challenges.
Richardson also took time to highlight the importance of continuous evaluation and adaptation, emphasizing the need to plan ahead and remain flexible to ensure outreach initiatives thrive.
Both ODE and DukeREP serve as successful templates for how academic institutions can make a meaningful impact on their communities. By understanding diversity, equity and inclusion needs while nurturing the next generation of scientific minds, these programs exemplify the power of outreach to drive positive change.
Through collaborative efforts, thoughtful planning and a dedication to expanding opportunities, ODE and DukeREP hold the potential to transform lives and shape the future of STEM disciplines, starting with eager students in sometimes hard to reach places.
Lessons for Aspiring Community Outreach Leaders
For individuals seeking to establish their own community outreach programs, Kyle's work on ODE and Richardson's REP program offer valuable insights:
Outreach Design Education (ODE)
The Outreach Design Education Program (ODE) at Duke University is a set of programs that introduces younger students from a diverse variety of backgrounds to engineering design and fosters an appreciation for STEM.
Read More Stories
Explore additional stories in this issue of I/O Magazine.