To Infinity and Beyond
By Zoe Sinclair | Photos by John Kraus, courtesy Polaris Program
11/3
Pratt School of Engineering
Venture among the stars with Duke alum Anna Wilhelm Menon
Up, Up, and away … to outer space!
Ever since she was a little girl, Duke alum Anna Wilhelm Menon has always had her head stuck in the clouds—well, to be fair, in the stars. Soon, her dreams will become a reality. In early 2024, Menon will embark on a once-in-a-lifetime mission to space with the Polaris Program's Polaris Dawn mission.
Growing up in "one of the most well-known cities in the United States for human space flight," i.e. Houston, Texas, Menon lived near NASA Johnson Space Center and was exposed to space at a very young age. Her love and curiosity for the field carried with her throughout her childhood, schooling and now her career, leading her to graduate from Duke in 2010 with a master's degree in biomedical engineering.
Almost 15 years later, Menon is preparing for her first flight to space as a crew member on the Polaris Dawn mission.
"I think life is more exciting when you can venture among the stars."

Anna Wilhelm Menon
Class of 2010
"I feel incredibly excited. I am just thrilled to have the opportunity to learn," Menon said. "I think life is more exciting when you can venture among the stars."
After Duke, Menon moved back home to work at the NASA Johnson Space Center–the same place that introduced her to space as a child, creating a full-circle moment. For about seven years, Menon worked there as a biomedical flight controller in the International Space Station's mission control. In that role, Menon supported both the astronauts living in space and the medical hardware and software on the International Space Station, working to keep the astronauts healthy and safe.
"It was a great marriage of my different interests. It brought together engineering and medicine, my love for space, and my education that I got at Duke and applied it to the space field," Menon said. "It was a dream come true to get to do that work."
Menon said she had a wonderful time working at NASA and accepted a job in 2018 at SpaceX as a space operations engineer, managing the development of crew operations in addition to serving in mission control as both a mission director and crew communicator. In crew operations, she develops different procedures for astronauts in space, like how to fight a fire or respond to capsule depressurization, which are emergency conditions in space. As mission director, she oversees missions to ensure they are executed properly, safely and successfully.
After doing this work for several years, when the opportunity to fly to space as a mission specialist and medical officer in the Polaris Dawn Mission crossed her path, Menon could not refuse.
"I love learning. That was something that Duke really fostered in me."
"I love learning," she said. "That was something that Duke really fostered in me, and I have carried this love of learning and am applying this curiosity now to space flight. I am thrilled to get to learn from the experience and contribute back to the body of space knowledge to help future space endeavors."
The up-to-five-day Polaris Dawn mission is the first in a series of three, as part of the greater space program called the Polaris Program. This program strives to advance space technologies, while also focusing on important causes here on earth. The mission is targeted to launch into orbit no earlier than the first quarter of 2024.
On the mission, Menon and her three crew members are expected to fly the highest Earth orbit ever flown at about 1,400 kilometers. They will also perform the first commercial spacewalk, test out new communication systems, complete about 40 research experiments—including research on radiation given the initial altitude of the mission–and, lastly, raise funds and awareness for St. Jude Children's Research Hospital.
"We strongly believe that we can make great progress for space exploration, while also addressing the problems we face here on earth today," Menon said.
As the mission approaches, Menon trains and prepares with her crew. She believes that space exploration has the ability to develop capabilities and new technologies that will positively advance humanity, creating endless possibilities for the future of human life.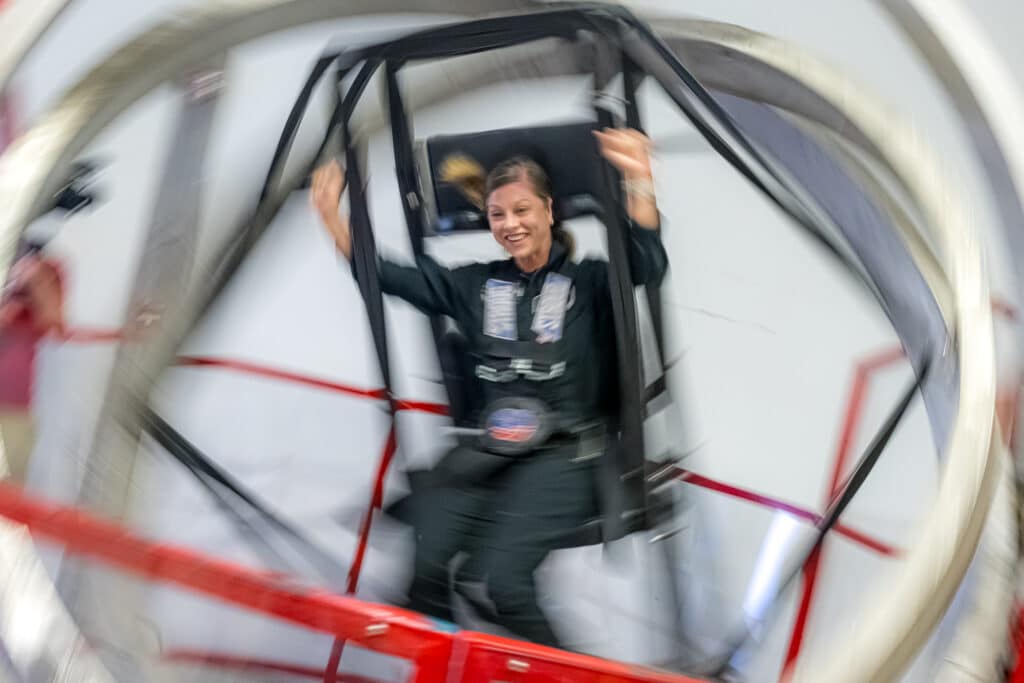 "I think we continue to help our lives here by exploring further beyond it," Menon said. "Exploration has been part of the human spirit for all of time, and I think that doesn't stop with exploring our globe. I think there is a craving in humanity to continue to explore our universe."
Menon thanks her degree, which taught her the fundamentals of physiology, engineering and medicine that she uses as the medical officer and mission specialist on this mission, and her time at Duke for giving her the tools to do the job she loves.
"I've continually tapped back into my education at Duke to learn the necessary skills to serve my crew on this mission. Duke taught me the engineering and problem-solving skills, as well as the ability to learn and work together in a team environment."
"I've continually tapped back into my education at Duke to learn the necessary skills to serve my crew on this mission," Menon said. "Duke taught me the engineering and problem-solving skills, as well as the ability to learn and work together in a team environment, and that has carried into my career in spaceflight."