Duke Spinoff Tyrata Acquired by Bridgestone
By Miranda Volborth
11/15
Pratt School of Engineering
A tire tech startup hatched at Duke Engineering has fully fledged the nest to become part of one of the world's largest tire manufacturers
Duke professor of electrical and computer engineering Aaron Franklin just lost his job as chief technology officer of the company he founded six years ago, and he's thrilled.
That's because Franklin's company Tyrata, which uses electronic sensors to monitor tire tread wear, was acquired—along with eight employees—by Bridgestone Americas. The technology that Franklin and his team developed was so functional, and the engineers so capable, that Franklin himself was no longer really needed.
His company successfully fledged the nest.
Franklin never held aspirations of starting his own company or imagined that he would spend years shepherding technology from his lab into the hands of fleet management clients around the world. But just a year into his tenure at Duke, he was invited to join a brainstorming session initiated by a private investor who'd been shaken up by a tire blowout and wanted to make roads safer.
Franklin's lab at Duke focuses on molecule-size nanomaterials to create printed electronics, and he thought it might be possible to print sensors inside tires to measure how the thickness of the tire tread interfered with an electrical field created by the sensor.
He had no idea if the idea would work, but he thought it reasonable, at least. The investor thought so, too, and funded the research for the first two years. After Franklin tested the idea in his lab, generated some initial data and published a paper on the results, he patented the technology and secured $4.5 million in Series A investments to support Tyrata's continued growth.
I think identifying my Duke roots continued to amplify the value of the technical side of what we do.

Addy Professor of Electrical and Computer Engineering
Even as Franklin was learning to navigate the layers of financial pressures and legal and regulatory mazes inherent to startups, he traveled regularly to tire technology conferences to talk with companies that might be interested in Tyrata's tech, always presenting himself as a professor at Duke as well as the company's CTO.
"I think identifying my Duke roots continued to amplify the value of the technical side of what we do," said Franklin. "And I think it helped spark initial connections to companies like Bridgestone. Within the first year of Tyrata, we started some collaborative work with Bridgestone's technical team on our initial sensor products."
Tyrata also partnered with GoDurham, the city's transportation authority, to monitor its bus fleet, and Franklin's Tyrata team learned that tires on those kinds of vehicles are generally changed long before their end of life as a safety measure.
"As a city bus rider, you might say, 'Great, I'm very thankful,'" said Franklin. "But from a cost perspective and from an environmental footprint, it's much worse to change the tires before they actually need to be replaced."
Vehicles like buses, box trucks and tractor trailers go through tons of tires because of proactive changes, and the practice racks up huge costs and environmental impacts.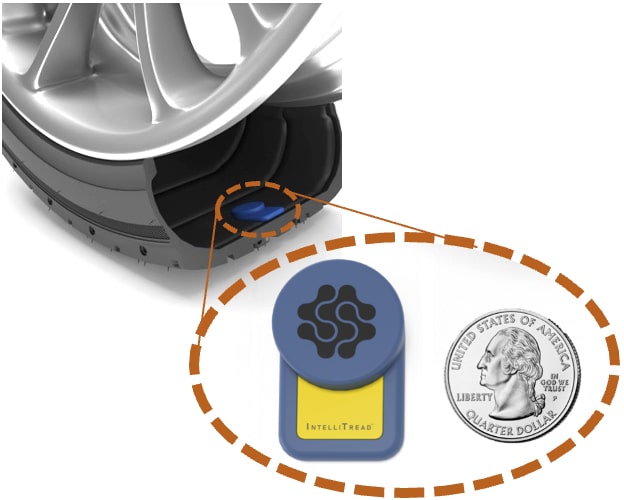 With these savings implications for large vehicle fleets in mind, many companies approached Tyrata with strong interest in the idea of incorporating tire monitoring sensors into drive-over units, akin to speed bumps, rather than having to add sensors into every tire.
The shift from in-tire sensing would allow fleet managers to autonomously monitor tread wear on vehicles without modifying their tires or relying on technicians to manage the complex mess of tires and their data
Franklin's team thought that Tyrata could make a positive impact on safety and the environment by giving the industry what it needed. They tried moving the existing sensors directly from the tires to the new drive-over form, but he said the results weren't great.
"We discovered that when you're trying to sense the thickness of tires from outside of the tire, there are a lot of sources of noise and other variables," said Franklin.
The group had to rethink how the sensors could best function.
Vehicles like buses, box trucks and tractor trailers go through tons of tires because of proactive changes, and the practice racks up huge costs and environmental impacts.
"A lot of the innovation started happening at the startup," said Franklin. "From the core invention that happened in the lab at Duke initially, we moved to a totally new kind of sensor platform."
Tyrata applied its growing knowledge of tires and sensing to a new product: a drive-over system that measures tread primarily with magnetic fields rather than electric ones. Every tire contains steel belts, and the way those belts disrupt nearby magnetic fields relates to the thickness of the tread because of the shielding it provides to the sensor.
"That sensing model, which we pinned down about four years ago, is the one that's now manufactured in the Tyrata facility in downtown Durham," said Franklin. "We manufactured about a hundred units and installed them in countries all over the world, in all different climates. The vehicles just drive over the speed bump that is part of their facility, and it measures the thickness of all the tires and reports it to the fleet manager along with data analytics that can track tire health, predict service scheduling, etc."
As the technology evolved, the Tyrata team was still interfacing with the same technical team at Bridgestone to study and test the new product. That continuous collaboration, according to Franklin, led to engagement with Bridgestone's mergers and acquisitions team, and their eventual purchase of Tyrata.
Franklin said that when people learn that this was the first business he started, built and sold, it's common for them to ask the question, "Would you do it all again?"
The answer is, he already has. His second startup, Versametrics, is a more scaled-back endeavor and focuses on a niche customer base: other researchers who want to automate their scientific experiments.
"You learn some things about entrepreneurship the hard way," said Franklin. "It's not an easy world to be engaged in, especially juggling it alongside a busy faculty career. But now I know what I know, and I really am grateful for the whole experience."