25 Hours to Sustainability: Net-Zero Carbon at the Heart of Duke's 2023 Executive Challenge
4/17
Pratt School of Engineering
Could Duke Master of Engineering Management students develop transformational business strategies in little more than a day?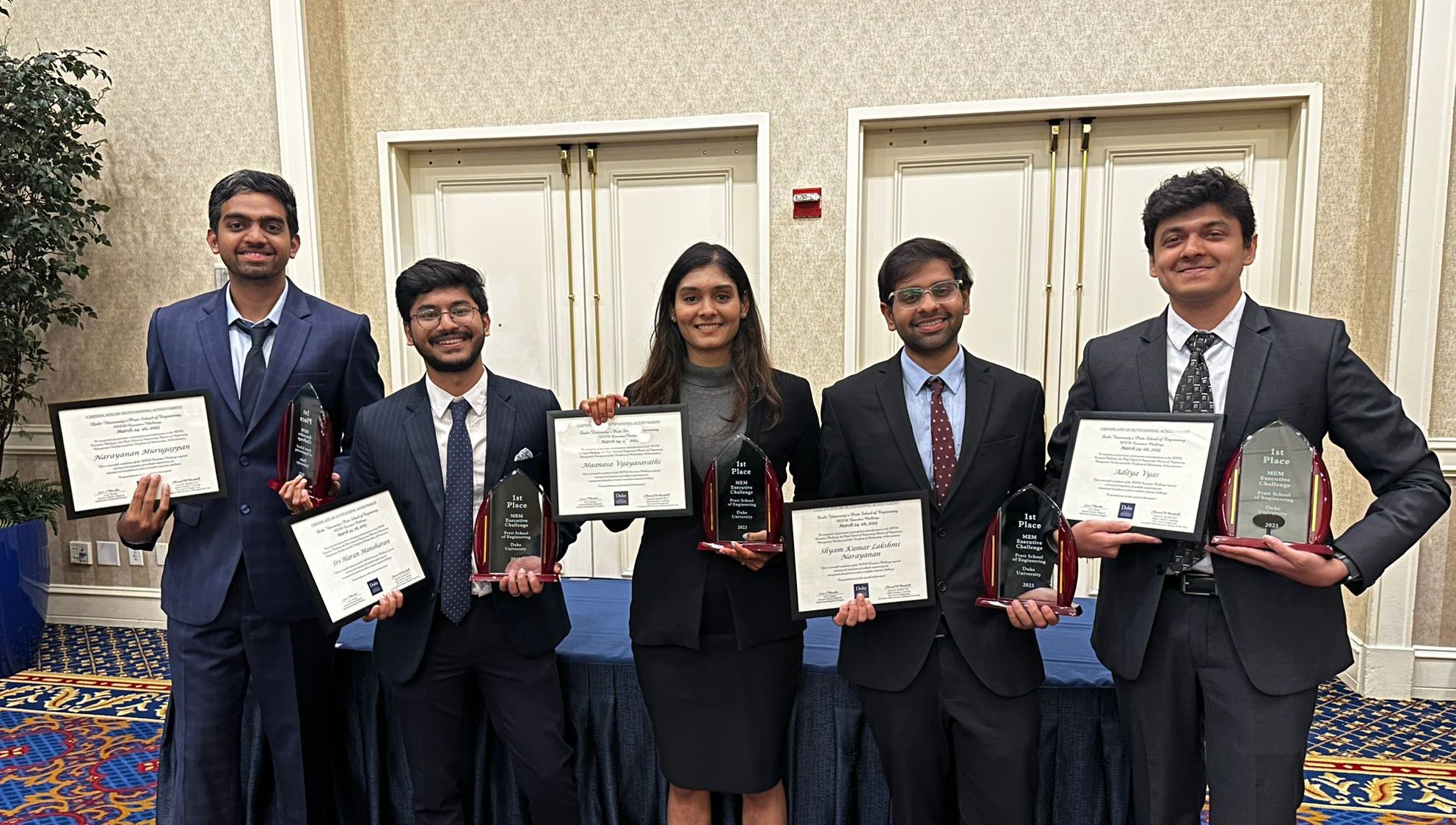 Twenty-five students in Duke's Master of Engineering Management graduate degree program spent a spring weekend on a real-world, time-intensive challenge focused on sustainability.
Could Duke Engineering Management student teams, in just 25 hours, engineer organizational transformation strategies to enable a large, global enterprise to achieve net zero carbon emissions by 2030?
The fictional company at the heart of the 2023 Duke Executive Challenge had four business units and 90,000 people, working on five continents. During the faculty-run simulation, the five competing teams had to be nimble as they faced disrupters—announcements of challenging new business circumstances that could alter their developing strategies significantly.
"They had just 25 hours to develop an executive presentation that reflected their integrated learnings from Duke's Masters of Engineering Management program," said Edward M. Marshall, an adjunct professor at Duke's Pratt School of Engineering. "And they came through with flying colors!"
Duke Engineering Management, celebrating 25 years in 2023, is part of Duke Engineering's Institute of Enterprise Engineering. The institute offers a growing number of master's degrees, online credentials and more that provide students and working professionals with the technical, business and communications skills people with science and engineering backgrounds need to lead the positive transformation of 21st-century organizations.
The Duke Master of Engineering Management is a 30-credit graduate degree that innovatively integrates technical skills with business training to create the well-equipped leaders that organizations need to solve complex problems.

---
Duke Executive Challenge 2023 Teams
SKYHAWKS: Kunal Gupta, Tanvi Wagh, Archit Kapur, Ryan Feinberg, Niharika Singh
DOMINO SQUAD: Mihir Ashish Gupta, Rishik Prashant Kabra, Amrit Goyal, Sanchit Patra, Sanika Ratnaparkhi
NO MONDAY BLUES: Mike (Zhi) Qiao, Ke (Ken) Xu, Gayathri Sanathanan Nambiar, Melba Seirah George, Anusha Arun
MEM-ING MAVERICKS: Dhruvil Parikh, Raj Hungund, Mohit Nambaru, Zichang Liu, Naman Jain
PIONEERS OF PROGRESS: Aditya Vyas, Maanasa Vijayasarathi, Narayanan Murugappan, Sri HaranManoharan, Shyam Kumar Lakshmi Narayanan
---
The grand finale of the Duke Executive Challenge saw three external senior business leaders evaluate each team's 15-minute presentations.
The experts were:
Debra Sabatini Hennelly, CEO of Resiliti
Ravi Kurani, a 2013 Duke Engineering Management graduate and CEO of Matchly
Suman Rao, a Duke MBA graduate and managing director of loyalty programs for Delta Air Lines
The judges awarded first place to Pioneers of Progress. Second-place honors went to No Monday Blues.