You are here
Graduate Communications and Intercultural Programs Team
Bridget Fletcher
Director
Bridget Fletcher has been at Duke Engineering since 2007, working in various roles to support graduate students. She has taught English to international graduate students since 2010.
Bridget received a Bachelor of Arts in Sociology from North Carolina State University and a Master of Arts in Liberal Studies with a focus on Intercultural Communications, as well as an English as a Second Language (ESL) teaching certification from Duke.
Her master's research focused on Chinese student acclimation in the American graduate school classroom. She is the author of From Jiao Shi to Classroom, a guidebook for Chinese students coming to the United States for study. Bridget has earned an Intercultural Foundations Certification from the Summer Institute for Intercultural Communications and is certified to administer the Intercultural Effectiveness Scale as well as the Global Competencies from the Kozai Group.
Bridget received the Pratt School of Engineering Golden Hard Hat Award in 2011, the Capers and Marion McDonald Award for Excellence in Mentoring in 2012, and was nominated for the Blue Ribbon Diversity Award in 2016.
Contact: bridget.fletcher@duke.edu
---
Angus Bowers
Communications Consultant
Angus Bowers joined Duke University as a communications consultant in late 2018. He brings over 11 years of teaching experience to the Graduate Communications and Intercultural Programs.
He comes from teaching English as a Second Language (ESL) at Wake Technical Community College and from the Intensive English Program at North Carolina State University. In addition, Angus has trained ESL teachers as a faculty member of the ESL Teacher Certificate program at Wake Technical Community College.
He received a Monbukagakusho Research Grant from the Japanese Government to complete a master's degree in Social Anthropology from the London School of Economics and Political Science, and has an Master of Arts in English Linguistics from NC State.
Angus has lived in France, Japan, and the United Kingdom for extended periods of time. He was recently awarded a grant from the Partners of the Americas to train English teachers in Bolivia.
Contact: angus.bowers@duke.edu
---
Sue Mathias
Communications Consultant
Sue Mathias works with graduate students, helping them with oral and written English proficiency, and coaching international students who are adjusting academically and socially to life at Duke.
She has taught English as a Second Language (ESL) and worked with graduate students since 2002. Sue received a Bachelor of Science in Finance with a minor in Japanese from Pennsylvania State University before spending a year at Sophia University in Tokyo on a Rotary scholarship.
After working in finance for a decade, Sue earned a Master of Arts in Teaching ESL and a Master of Education in Curriculum and Instruction at Penn State, where she focused on foreign language education.
Contact: susan.mathias@duke.edu
---
Minerva Matos-Garner
Communications Consultant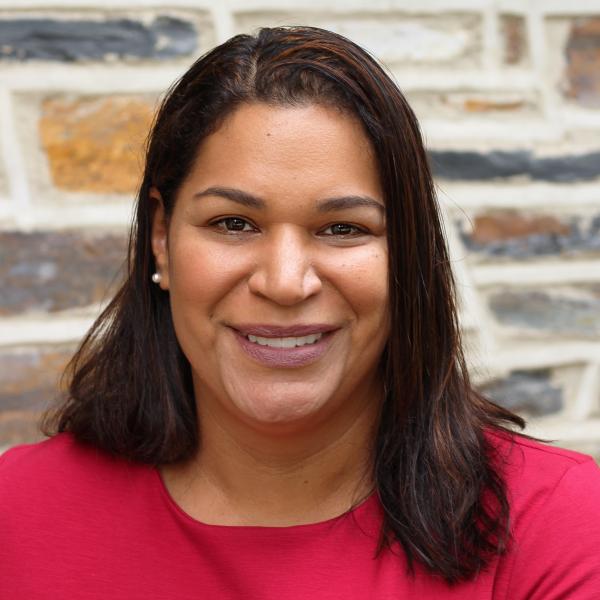 Minerva Matos-Garner brings over 17 years of language teaching experience.
She began her teaching career in Baltimore, where she taught Spanish in the Archdiocese of Baltimore, and English as a Second Language (ESL) at Woodstock Job Corps Center. After relocating to the midwestern United States, Minerva continued teaching Spanish and ESL in both the Cleveland Heights-University Heights and Westlake city schools.
Until recently, Minerva taught ESL at Wake Technical Community College and at the Intensive English Program at North Carolina State University. She began teaching at Duke in 2018. Minerva has an Master of Arts in Teaching English to Speakers of Other Languages (TESOL) from the University of Maryland-Baltimore County.
Contact: minerva.matosgarner@duke.edu
---
Marcie Pachino
Communications Consultant
Marcie Pachino started working as a Communications Consultant at the Graduate Communications Center in 2018.
Prior to this, she taught English as a second language (ESL) to international high school students in the Durham Public Schools for 29 years. Marcie has also taught ESL strategies to graduate students in Duke's Master of Arts in Teaching program.
She earned her Bachelor of Arts in history at Duke, her Master of Arts in Teaching at the School for International Training, and her North Carolina Teaching License at North Carolina Central University. Marcie speaks Spanish, and now that she is at Duke Engineering, she hopes to remember some Chinese she learned as a Duke undergrad. In her free time, Marcie enjoys reading fiction, seeing movies, traveling domestically and internationally, and spending time with friends and family.
Contact: marcie.pachino@duke.edu