You are here
Pratt Profile: Suzana Vallejo-Heligon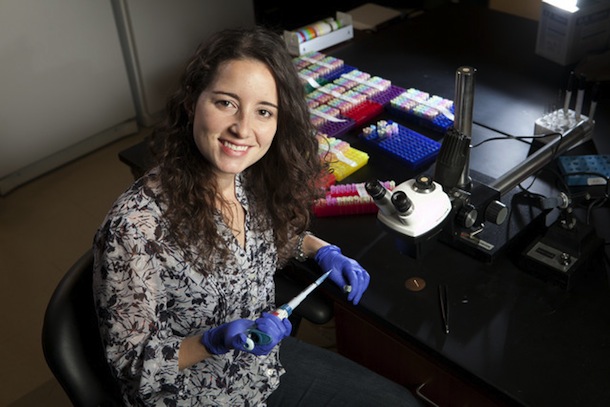 Where are you from?
Born and raised in Venezuela, but I moved to the United States when I was 16.
What was your undergrad degree and where did you get it?
Materials Science and Engineering, from the University of Florida.
Why did you choose Duke?
I looked at several other schools, including large ones like the Universities of Michigan and Pittsburgh, but ultimately I chose Duke because I felt that I could be extremely successful here. The research is amazing—there are so many successful people in the field of biomedical engineering at Duke, and I've learned so much from them since I have been here. I also liked the smaller size and the fact that the faculty, staff and students are extremely supportive whenever you need help. Duke has a positive atmosphere that keeps me motivated and ready to learn more.
What organizations are you involved in?
I am the president of the Latino Graduate Student Association. I am also secretary of the Engineering Graduate Student Council, and Lead Chair of the PhD Plus program. By being part of multiple student organizations, I've been able to develop my professional skills, and plan meaningful events for Pratt at large. I've also been able to meet a diverse group of people with interesting career and personal aspirations.
Would you encourage other students to choose Duke? Why?
Yes. Duke can be challenging sometimes, but you have a strong support system that is willing to help you every step of the way. I see students succeeding all around me, and that encourages me to push myself harder.
Tell us something about yourself that otherwise we wouldn't know or guess.
I have a diverse background. My grandfather was born in Belgium. My dad is Mexican, and mom is Venezuelan. I also have not been in the United States very long, just for about 10 years now.
What's ahead for you after graduation?
I plan on landing a consulting job for the first couple of years after graduation. After gaining some necessary business training, I want to join a small start-up after graduation. I want to help translate all of the great research discoveries generated at places like Duke into viable products and healthcare solutions for the public.