Distinguished Alumni & Service Awards
Whether researchers, executives, entrepreneurs, teachers or volunteers, many members of our 17,000-plus alumni are also leaders. Each year, the Duke Alumni Council honors alumni and friends who have distinguished themselves in their areas of leadership and service to the Pratt School of Engineering.
2023 Honorees
Dozens of leading members of our community have received these honors, which are awarded each spring.
Kenneth S. Chestnut, Sr.
Distinguished Alumni Award
A construction industry leader for more than 45 years, Ken is the retired president and CEO of IBG Construction Services. As he led IBG, its revenues grew, its core businesses expanded across the map and it became a leader in sustainability engineering. Ken served on the Duke Engineering Board of Visitors for several years.
Class of 1968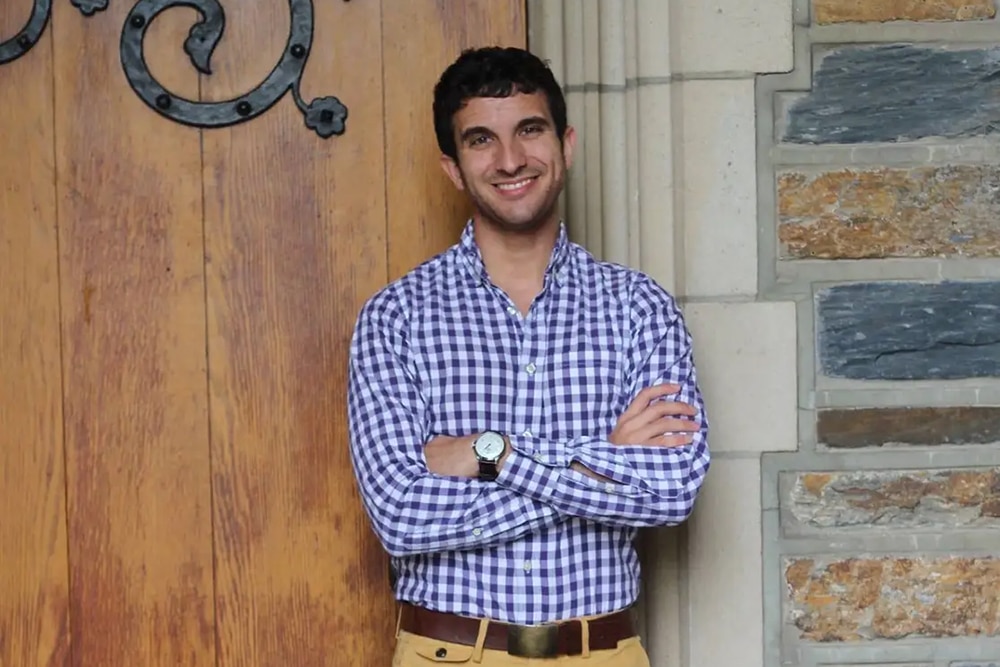 Joshua M. Miller
Distinguished Young Alumni Award
Joshua is an entrepreneur who has contributed greatly to the field of computer vision—particularly remote sensing and medical imaging. Startup FarmShots, which uses satellite data to maximize the use of fertilizer and pesticides, was acquired in 2018. He is now CEO of Gradient Health, which connects medical AI developers with large-scale data sets, so they catch cancer and stroke earlier.
Class of 2015
Pamela S. Hanson
Distinguished Service Award
Pam has been an engaged and active member of the Office of Development & Alumni Relations for nearly 30 years. She has given generously of her effort, spirit and drive to expand and deepen the relationships between the Pratt School of Engineering and its alumni and friends.
Make a Nomination
Recognize distinguished leadership. Submit the name of a deserving friend, classmate or mentor.
Previous Honorees
Distinguished Alumni Award
Robert W. Anderson BSCE '59
Charles P. Ballenger, Jr. BSCE '36
William M. Bartlett BSCE '54
Walter J. Bishop BSCE '73
Shem K. Blackley, Jr. BSCE '54
Stephen R. Bolze BSEE'85
Emmett H. Bradley BSEE'49
Lewis Campbell BSME'68
Everitt A. Carter BME'40
John Cocke BSME'45, PhD'56
Laurie C. Conner E'76
John M. Derrick, Jr. BSEE'61
Gary W. Dickinson BSME'60
Ray B. Duggins BSME'44
Robert R. Everett BSEE'42
Fred M. Fehsenfeld, Jr. E'73
Robert E. Fischell BSME'51
W. Kent Fuchs BSE'77
Robert L. Galloway, Jr. BSE'77, PhD'83
Robert A. Garda BSME'61
C. Gary Gerst BSME'61
Clair H. Gingher, Jr. BSME'43
James F. Girand BSEE'59
R. Eugene Goodson T'57, BSME'59
William H. Hall E'09 AM'14
Philip J. Hawk BSE'76
William A. Hawkins III BSE'76
Michael R. S. Hill BSE'86
Grant T. Hollett, Jr. BSME'64
Charles H. Holley BSEE'41
W. Kenneth Howard BSEE'35
John L. Imhoff BSME'45
Edwin L. Jones T'12
Edwin L. Jones, Jr. BSCE'48
Alan L. Kaganov BSME'60
John J. Karakash BSEE'37
Senator Edward E. Kaufman BSME'60
Clinton W. Kelly III BSEE'59
Theodore C. Kennedy BSCE'52
Kenneth T. Knight, Jr. BSE'33
Lawrence J. Lang BSE'86
Chester L. Lucas BSCE'38
Robert C. Marlay BSCE'69
Capers W. McDonald BSE'74
Larry K. Monteith MS'62, PhD'65
Nicholas J. Naclerio E'83
Billy B. Olive BSEE'48
Edmund T. Pratt, Jr. BSEE'47
James F. Rabenhorst BSME'64
L. Russell Ranson T'31
Randolph K. Repass BSEE'66
Patricia K. Scheller BSE'81
Kenneth T. Schiciano E'84
W. Brewster Snow BSE'32
J. Stephen Simon BSCE'65
William A. Stokes BSCE'53
W. John Swartz BSME'56
David S. Taylor, E'80
T. Edward Torgerson BSCE'49
Charles R. Vail BSEE'37
James W. Vaughan, Jr. BSEE'57
James L. Vincent BSME'61
Christopher R. Webster T'39
Arthur J. Wennerstrom BSME'56
Hugh E. Whitted, Jr. BSEE'39
Blake S. Wilson BSE'74
F. Thomas Wooten BSEE'57, PhD'64
Harold L. Yoh, Jr. BSME'58
Distinguished Young Alumni Award
Benjamin S. Abram E'02
John A. Board, Jr. BSE '92, MS '82
Lewis C. Brewster BSE '86
Matthew Q. Christensen BSE '02
Max D. Cohen BSE '03
Karen E. Conover BSE '85
J. Michael Drozd BSE '89, PhD '97
Michael Feldman BSE '84
Jacob J. Flomenberg E '05
Russell M. Glass BSE '98
David J. Gregory BSE '84
Robert J. Greenberg BSEE '90
Anita J. Hill BSE '85, MS '86, PhD '89
Lawrence D. Lenihan, Jr. BSE '87
Gregory R. Maletic BSE '90
Mia K. Markey PhD '02
Leslie Voorhees Means E' 08
Nicholas A. Millington BSE '98
Ananth Natarajan BSE '90
Lisa Burton O'Toole, PhD E'07
Aaron T. Patzer BSE '02
Scott D. Olson BSE '91
Christophe H. Schilling BSE '95
Kristine M. Singley BSE '96, B'07
George S. Taylor BSE '78
Edward L. Trimble BSE '90
Jeffrey N. Vinik BSE '81
James H. Vogeley BSE '80
Andrew Waterman, PhD E '08
James G. Whayne BSE '90
Harold L. Yoh III BSE '83
Distinguished Service Award
Donald M. Alstadt
Roger Coke Barr BS'64, PhD '68
C. Leland Bassett BSME '59
Sterling M. Brockwell, Jr. BSCE '56
Robert W. Carr, Jr. BSE '71
Howard G. Clark III
F. Hadley Cocks
James H. Corrigan, Jr. BSME '47
Daniel M. Dickinson E'83
Earl H. Dowell
Ernest Elsevier
F. Reid Ervin BSME '42
Harold L. Flowers BSEE '38
Linda Franzoni, MS '88, PhD '91
Stacy S. Gardner BSE '91
Michael R. Gustafson II E '93, G '99
Fitzgerald S. Hudson BSCE '46
Alfred M. Hunt
Joseph H. Jarboe BSCE '69
Edward L. Koffenberger BSME '47
George D. McCeney BSCE '33
Martha Monserrate McDadde BSE '81, MS '82
James H. McElhaney
Fred W. Neu BSCE '34
George W. Pearsall
Henry Petroski
Robert H. Pinnix T '24
Edward M. Reefe BSCE '68
Janis J. Rehlaender BSE '77
Marion L. Shepard
Constance E. Simmons
Wilbur S. Smith
Adrienne Stiff-Roberts, PhD
Nello L. Teer, Jr.
R. Dillard Teer
George A. Truskey, PhD
Aleksandar S. Vesic
Seth A. Watkins BSME '92, JD '99, MS '93, PhD 96
Richard D. Webb T '51
Arthur E. Wheeler BSME '47
Jerry C. Wilkinson BSEE '67
William B. Wilmer VI BSEE '51
Howard M. Winterson T '39
Thomas M. Woodard BSEE '69
William H. Younger, Jr.