You are here
COVID-19 Engineering Response Team
The team is working on projects to address Duke Health's identified clinical equipment needs. As the team finalizes and implements devices, it will make the designs available for use. Check each of the project descriptions below for directions on how to access the designs. Although the team is focused on needs that may be unique to Duke, we encourage and are supportive of the efforts going on elsewhere. This effort is coordinated by Duke EngEn, the Innovation Co-Lab and Duke MEDx.
---
Completed Projects
Surgical Hood (3D SHIELD)
Adapts an ambient-air personal protection system into a sealed PAPR
Status: In Clinical Use
Via Duke's Office of Licensing & Ventures (OLV)
If you've used this device, please send feedback to eng-responseteam@duke.edu

Need
Shortage of powered air-purifying respirator (PAPR) systems, which provide greater protection than an N95 respirator and face shield

Project Summary
The design seals the permeable part of a commercial surgical hood with transparent film and seals the fan on top of the helmet with a 3D-printed manifold so that air can be pulled through two in-line ventilator filters. This creates positive pressure inside the hood with filtered, not ambient, air.
Over 80 institutions have requested design files and nearly 30 licensing agreements have been completed.
Team
Lead: Melissa Erickson (Surgery, Fuqua WEMBA)
Members: Eric Richardson (BME), Paul Fearis (BME), Chip Bobbert (OIT), Mark Palmeri (BME)
Project Partner
Media
Reusable Face Shield
A robust injection-molded headband attached to a thermo-formed shield
Status: In Clinical Use
The design is a derivative of the Prusa RC3.
Note: The design at this link is not a Duke design.

Need
Supplemental supply of reusable face shields.
Summary
30,000 units manufactured; goal to produce 75,000 units
Assembly is being completed by a team of more than 20 volunteers 
More than 100 downloads of license request; nearly 50 license agreements signed
Team
Lead: Chip Bobbert (Office of Information Technology-OIT)
Members: Evan Levine (OIT), Paul Fearis (BME), Mark Palmieri (BME) and Ryan J. Shaw (School of Nursing)
Project Partners
Beechwood Metal Works
Nike
Protolabs
Media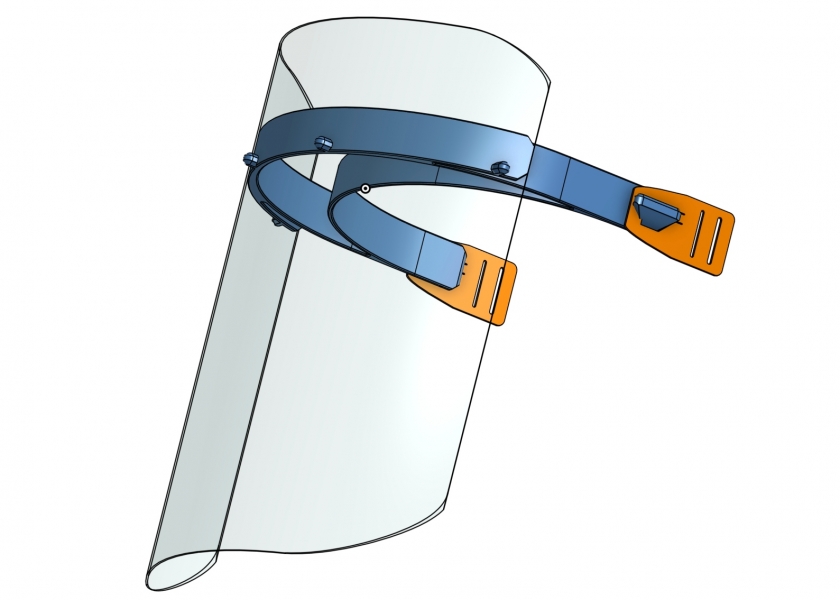 Aerosolization Sampler Clip
Status: Clinical implementation in-process
Need
A team investigating aerosolized virus in COVID 19 patient rooms requested design assistance for a clip for an aerosol sampling device.
Summary
Design completed
First part has been produced
Approvals received
Clinical implementation and manufacturing ramp-up are in process
Team
Lead: Chip Bobbert (OIT)
Members: Lucas Rocha-Melogno (CEE)
Media
Projects in Process
Isolation Tent (COVIAGE)
PAPR Bridge
Ventilator Splitter and Resistor System (VSRS)
Intubation Aerosol Shield
Nasal Swabs
Oxygen Mask
Hand Sanitizer Dispensers
Ventilator O2 Short-Range Activation
ET Tube Joint
New Projects
Our Team Process
Project Status Steps
Validation of need with hospital administration

Survey existing designs and/or create new designs

Pilot manufacturing/prototyping

Testing/review with health care professionals

Risk assessment and documentation

Manufacturing

Approval for implementation

Clinical implementation
---
How to Get In Touch
---
Duke Engineering COVID-19 Response Stories