You are here
A Different Kind of Dean's Memo
Dear Pratt community,
Over the past two weeks of rapid, and radical, changes to our way of life at Duke in order to stem the spread of COVID-19, I know all of us have been working at warp speed to transition everything from lab work to living arrangements in response to these challenges. I'd like to emphasize the importance of each of us doing our part to "flatten the curve" by staying at home, avoiding coming to campus and practicing social distancing—this is our duty to ourselves and our community. 
Making these kinds of changes is not easy, to say the least, either logistically or emotionally. But I have been impressed every day by how our community has drawn together—even as we are physically apart—to figure out creative ways to continue our vital work of learning, teaching and advancing engineering research to serve society.
In that spirit, this memo is something of a departure from our usual celebration of achievements, events and accolades. Instead, I want to celebrate our community, by sharing some of the encouraging stories I've heard as Pratt prepares to re-start spring classes online on Monday. (Of course, this being the "Dean's Memo," we do have a few accolades to highlight too!)
Enjoy, and please let us know if you have additional stories or tips to help others that you'd like to share over the weeks ahead. And of course, if there is anything at all that we can do to help you at this time, please reach out—a list of helpful contacts and information is online at pratt.duke.edu/covid19.
CONNECTED COMMUNITY
Pratt Goes Zoom
Turning on a dime, our terrific teachers have been busy moving their courses online in amazing ways, with many teaching even hands-on lab and design courses via the suddenly ubiquitous Zoom platform. As with any new technology, there's a learning curve, as our own Dr. G (ECE's Mike Gustafson) reported when doing initial experiments earlier this week.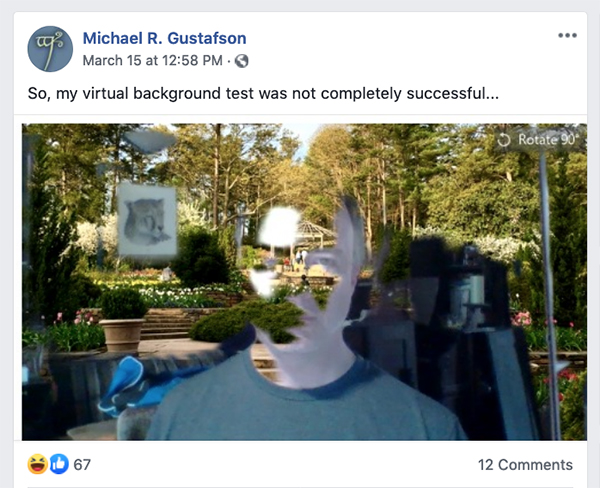 Of course, as a Duke Engineer well-versed in the development process, Dr. G quickly troubleshot the problem and assures us he will be completely visible when class starts up.
Meanwhile, other Pratt groups this week started using the platform for team meetings and even networking events. For example, when the Duke Center for WaSH-AID and their Triangle-area colleagues working in the sanitation sector could no longer meet in person for their regular "Toilet Tuesday" gatherings, the partners decided to test out a virtual Zoom gathering to celebrate St. Patrick's Day. As WaSH-AID's Mara Shurgot reported, "Joining us were kids, cats, dogs, and chickens, as well as friends and colleagues in Atlanta and Las Vegas. It was a hit, and we'll be hosting virtual Toilet Tuesdays for the foreseeable future!"
Now *That's* a Garage Lab
Garage startups Apple, Google and Amazon have nothing on George Delagrammatikas, assistant chair and director of master's studies in MEMS. Determined to keep students learning remotely, he has set up shop in his home garage to mimic—as best as it can—the lab he usually teaches in in Hudson Hall. When classes start, master's students in the MEMS capstone class will send him designs and computer files that he will 3D-print, prototype, assemble and test. As George says, "We'll debug, redesign and improve these designs together over Zoom. The students provide the minds, I provide the hands." The experiments will be used by all MEMS grads and undergrads in the new engineering building opening fall 2020, while simultaneously fulfilling the current students' graduate project requirements.
"The students provide the minds, I provide the hands."
Creative Capstone Change-Ups
In another example of creative course changes, senior design students working on a large animal pulse oximeter with Martin Brooke and Nan Jokerst (ECE) this semester will be receiving care packages from their professors any day now. The packages are being mailed directly from Digikey, an electronic components supplier, and will contain materials like soldering kits that will let the students continue to work on their projects at home. The devices use light to measure tissue properties—in lieu of working with animal tissue in the lab as in the past (pictured at left), however, the students will use Jell-O in their kitchens!
IN OTHER GOOD NEWS...
Saterbak Wins 2020 ASEE-SE Outstanding Teacher Award
If it wasn't obvious to everyone already that we have the best engineering educators around, it was certainly clear to the ASEE Southeastern Section! The organization recently announced that Ann Saterbak (BME), director of our signature First-Year Design experience, won their Outstanding Teacher Award. This honor recognizes faculty members who have demonstrated exceptional contributions to engineering or engineering technology education through outstanding classroom performance. Congratulations, Ann!
Record-High Graduate Ranking
In another spot of good news in these uncertain times, Duke Engineering achieved its highest-ever ranking in the 2020 U.S.News & World Report graduate rankings published earlier this week. Overall, our school continued its steady climb up over the past few years to 23 overall for engineering schools. The rankings also showcased the growing strength of our department-based specialty programs:
Biomedical—4 (tie)
Civil—27 (tie)
Computer—20 (tie)
Electrical—22 (tie)
Environment—12 (tie)
Materials—34 (tie)
Mechanical—26 (tie)
Congratulations and thanks to our faculty and graduate students who continue to give their best every day.
SERVICE TO SOCIETY
Supporting the Durham Community
For those of us still in Durham, the Duke Office of Durham and Community Affairs is compiling a list of community resources and support activities by partners in our community. If there's one thing Durham does well, it's support and help its neighbors, and Duke Engineering is one important piece of that puzzle.
Now is the time to remember our commitment to using knowledge in the service of society—and I could not be prouder of how I'm seeing you all demonstrate that commitment, even from afar, each and every day.
I hope you all have a good start of classes tomorrow, and please do be sure to contact us if you have a story you'd like to share about how the Pratt community is adjusting in creative ways during this unusual time. We miss you, and want to hear from you!



Prof. Ravi V. Bellamkonda
Vinik Dean of Engineering