You are here
Support—and Space—for Big Ideas
$3 million gift creates the Jerry C. and Beverly A. Wilkinson Auditorium in Duke's new Engineering Building
Jerry Wilkinson, BSEE'67, P'98, P'00, P'03, has a lifetime of experience as an entrepreneur and investor. The founder and chair of the Wilkinson Companies and his wife, Beverly, see their giving to Duke University's Pratt School of Engineering as an investment in the future.
"The role of Duke Engineering in helping to solve the grand challenges of our society in health and medicine, environment, energy and many other arenas is clear and present," said Wilkinson. "Duke is uniquely positioned through collaboration and history to be a major player and contributor in solving these challenges."
The Wilkinsons' most recent gift will name the Jerry C. and Beverly A. Wilkinson Auditorium in the Pratt School of Engineering's new 150,000-square-foot building, scheduled for completion in late 2020. The 200-seat Wilkinson auditorium will feature prominently in the school's signature educational experience, with an innovative new curriculum focused on experiential, team-based projects in design, data science, computational thinking, research and entrepreneurship.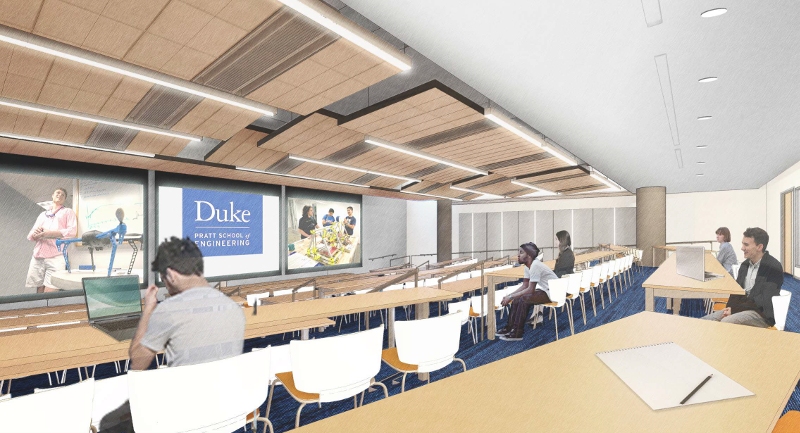 "It means a great deal to have the support of friends like Jerry and Beverly as we move into a new era of Duke Engineering," said Ravi Bellamkonda, the Vinik Dean of the Pratt School of Engineering. "Our alumni can be very proud of Duke's commitment to inspire and prepare the next generation of creative engineering leaders to solve important problems through technology and teamwork."
The Wilkinsons' $3 million gift is part of the Building for the Future of Duke Engineering campaign to fund the new $115-million building and the research and educational initiatives that will take place within it. Naming opportunities include three floors to house research "neighborhoods," including Health Innovation, Computing and Intelligent Systems, and Environmental Health. There is also an outdoor plaza, a fourth-floor terrace, active-learning classrooms and design laboratories, offices and more.
Jerry Wilkinson holds a bachelor's degree in electrical engineering from Duke as well as an MBA from the Wharton School. A past chair of the Pratt School of Engineering Board of Visitors, he received the Duke Engineering Distinguished Service Award in 1997. He and Beverly Wilkinson have given generously over the years, establishing the Beverly A. and Jerry C. Wilkinson Scholarship, Myrtle Coker Wilkinson Scholarship, and Wilkinson Family Fellowship, as well as naming the Jerry C. Wilkinson E'67 Laboratory and The Robert Gordon Wilkinson Center for Engineering Management.  (Read the Wilkinson Family's Giving Story)
Wilkinson says the gift toward the new building is also a way to say thank you and give back.  Growing up in rural East Tennessee, he was one of five children. His mother was an elementary school teacher, and his father was a machinist at the Alcoa Aluminum plant. He received need-based financial aid to attend the engineering school at Duke. He says his Duke education launched his career, leading to his master's degree and post-graduate studies at Harvard.
"Duke provided the discipline, critical thinking, and most importantly, the relationships that guided my future," he said. "Bev and I have been blessed beyond description, and this gift will provide opportunities to others and a legacy that will make us most proud."
"Jerry exemplifies the spirit of Duke Engineering," added Bellamkonda. "Armed with a Duke education, he attained great success, and through it all continued to serve, lead, mentor and give back. We are proud to count Jerry as a Duke Engineer, and grateful for the staunch support of the entire Wilkinson family."
The Wilkinsons have three daughters—all Duke alumnae—and eight grandchildren, and split their time between Atlanta, Ga., and Amelia Island, Fla.